AMBASSADORS WITH DUAL ACCREDITATION PRESENT CREDENTIALS
Non-resident ambassadors of Nigeria, Spain, Iceland and Uzbekistan presented their letters of credence to the President of Mongolia, Mr. Khaltmaagiin Battulga on April 4th.
Mongolia established diplomatic ties with the Federal Republic of Nigeria on September 21st of 1971. Nigeria is the largest economy in southern Sahara.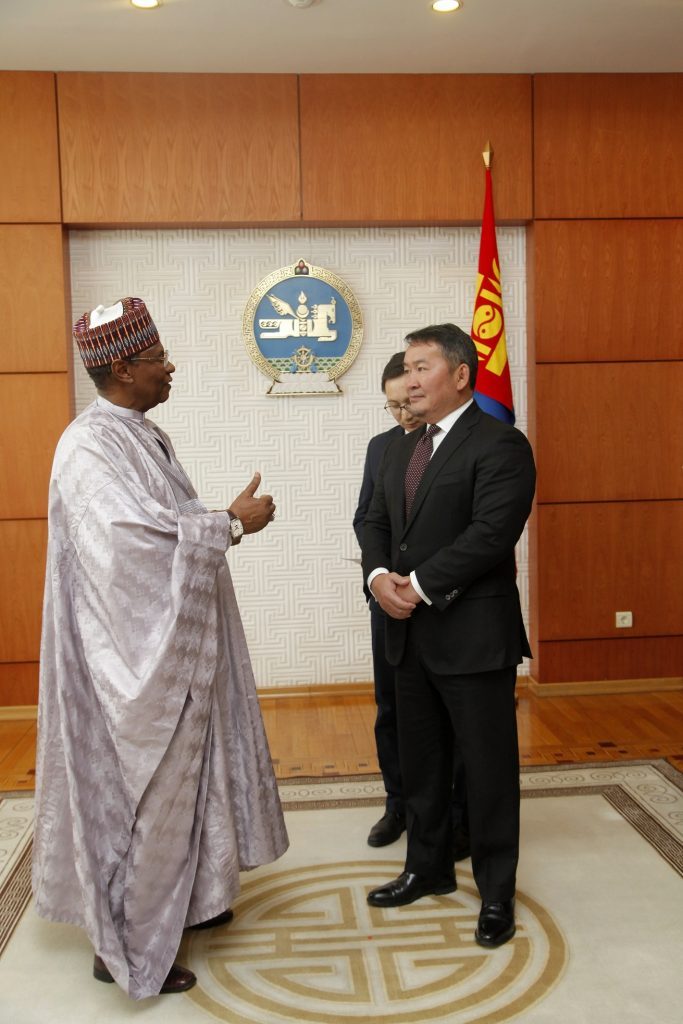 The non-resident ambassador of Nigeria Baba Ahmad Jidda said "It has been 46 years since our two countries incepted diplomatic relations. Nigeria ranks at 1st in Africa and 6th in the world by oil production. Therefore, I think, Mongolia and Nigeria can cooperate on resource governance."
President Battulga said Mongolia will be happy to learn practices of Nigeria which leads the world in oil exports.
Mongolia and the Kingdom of Spain established diplomatic ties on July 5th of 1977. Upon meeting the ambassador, Mr. Alberto Carnero Fernández, the President noted "When I had been working as the Minister for Agriculture, I visited your country and developed several agricultural projects in collaboration with Spanish specialists. A feasibility study was conducted on processing some 10 million pieces of hides using Spanish technologies and exporting the products," and wished the Ambassador to attach importance to agricultural cooperation and seek opportunities to increase bilateral trade.
In response, Mr. Alberto Carnero Fernández thanked for the warm hospitality. He said "I will work actively to improve economic and commercial cooperation. I have met with several authorities on this matter. It is possible to cooperate in introducing Mongolia to Spanish technologies."
Diplomatic ties were established with Iceland on June 4th of 1974. Within the scope of friendship and close cooperation, Iceland has been training Mongolian professionals in geothermal studies in the United Nations University (UNU) in Reykjavik, Iceland, on its own expense.
The Ambassador, Mr. Gunnar Snorri Gunnarsson said "Iceland has more than a hundred years of experience in exploiting its hotsprings, in other words, geothermal resources. It can probably be the most important aspect of cooperation between Iceland and Mongolia. Producing power using geothermal energy helped Iceland to become almost pollution-free. This is something that we can develop together."
In response, President Battulga said "We are familiar with Iceland's expertise in hotsprings and their management. There are about 300 hotsprings in temperatures from 40 to 98 degrees of Celsius in Mongolia. However, the management of hot springs hasn't been developed adequately," and wished the Ambassador to take initiative in exchanging practices and enhancing cooperation in this area.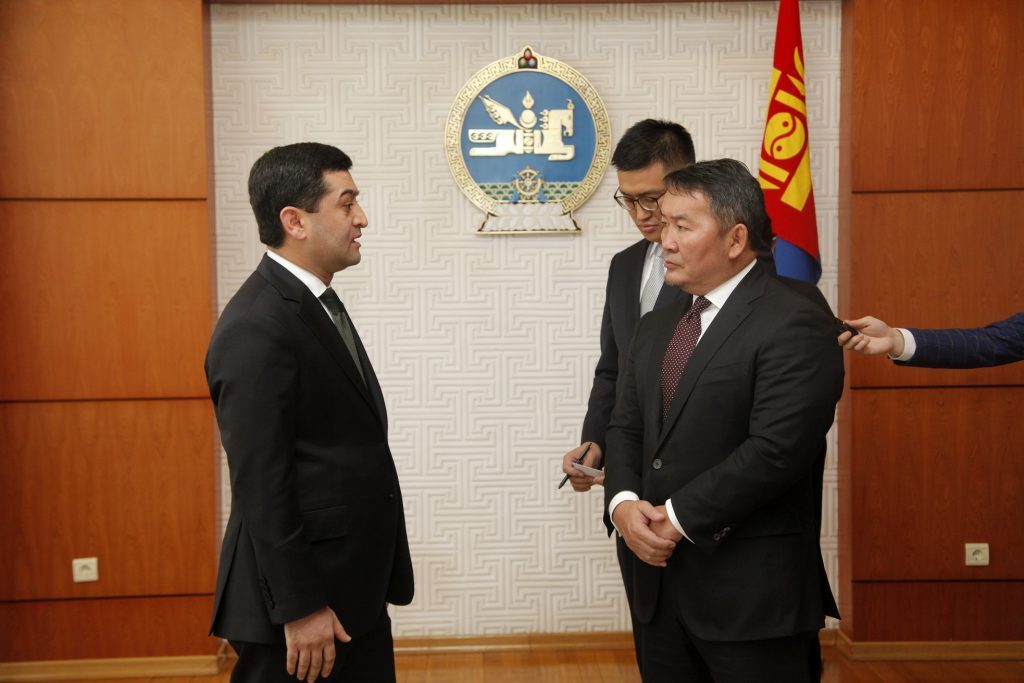 After presenting his credentials, the Ambassador of the Republic of Uzbekistan, Mr. Bakhtiyor Saidov paid a courtesy call on the President of Mongolia, Mr. Khaltmaagiin Battulga. The Ambassador conveyed greetings of the President of Uzbekistan to the President of Mongolia, his family and the people of Mongolia. Noting that there are sufficient potential of enhancing bilateral cooperation, Mr. Saidov pledged to put maximum effort on improving cooperation. "Uzbekistan is interested in imports of processed and unprocessed meat products from Mongolia, and exports of dried fruit and other goods to Mongolia. This way, we can increased the bilateral trade turnover," added the Ambassador.
President Battulga wished the Ambassador success in their works.