PRESIDENT OF MONGOLIA PRESENTS FIFA WORLD CUP TROPHY
The World Cup trophy has arrived in Ulaanbaatar. The capital city has been chosen as one of the destinations of FIFA Trophy Tour which is travelling around 91 cities of 50 countries. Today, the trophy was presented to audience at Football Pitch of the Mongolian Football Federation (MFF).
President of Mongolia Khaltmaagiin Battulga lifted up the trophy for photographs in pursuance of the tradition, according to which only the World Cup champions and Presidents of FIFA member countries are allowed to touch the golden trophy.
Addressing the Mongolian football fans, athletes and coaches, the President said,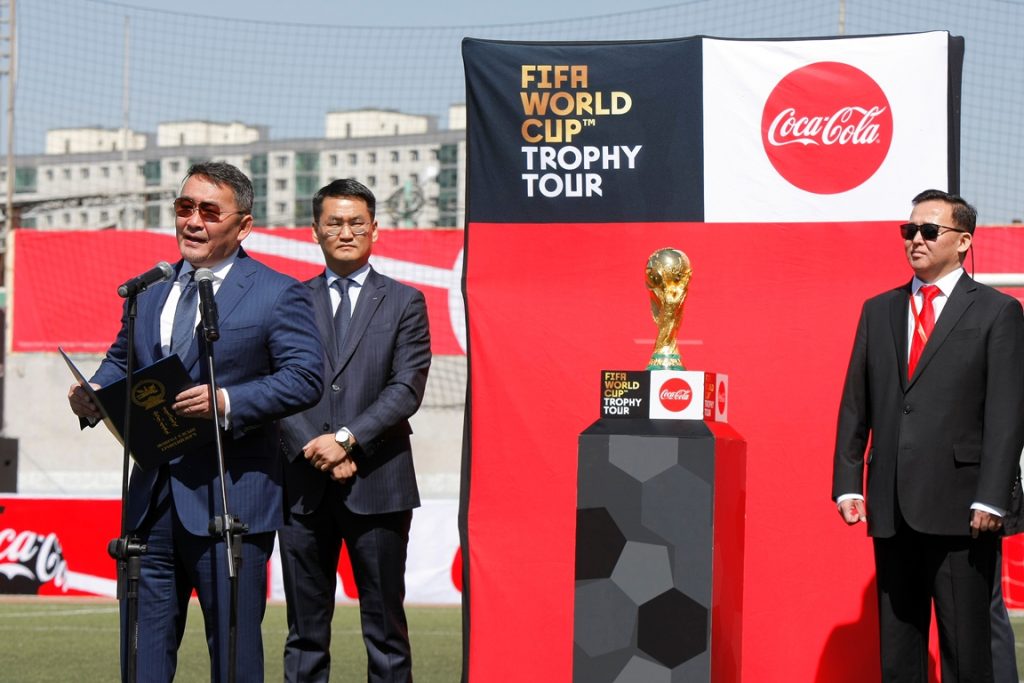 "In recent years, Mongolians' support for the team sports' development has been growing, as well as the number of young people who play them. This trend is bringing positive changes in the society.
"The Mongolian athletes in team sports, such as football, basketball and hockey have been triumphing on both continental and global arenas. I have been watching and supporting the Mongolian Football Federation, as it sophisticates its management approaches and renovates its organizational structure in order to promote development of football in Mongolia and lead the national teams to newer successes.
"Right now, I would like to congratulate the MFF president A.Ganbaatar, Secretary-General U.Shijir and MFF members. I am always grateful for MFF's commitment, as an enthusiast, for bringing new air, volume and contemporary management to football in Mongolia.
"Team work and team-mentality is valued at the foremost in the new century. Team sport, especially football which attracts numerous crowd, is significant in training people in working together as a team. Therefore, as the President, I aspire to support development of team sport by all possible paths on my behalf," said the President  and thanked FIFA, MFF and The Coca Cola Company for making the tour possible.