REMARKS BY THE PRESIDENT OF MONGOLIA AT THE WORLD EXPORT DEVELOPMENT FORUM
"Distinguished guests,
Entrepreneurs, wealth creators and investors,
Ladies and gentlemen,
A very good morning to all of you who have gathered today for the "World Export Development Forum."
On behalf of the people of Mongolia, I would like to express my sincere gratitude to the International Trade Center for co-organizing the 20th "World Export Development Forum" in Ulaanbaatar, the capital city of Mongolia. I would also like to extend my appreciation to the distinguished guests who have traveled from all corners of the world to attend this significant event.
I would like to take this opportunity to congratulate our esteemed guests participating in this forum, namely Ms. Rabab Fatima, UN Under-Secretary-General & High Representative for the Least Developed Countries, Landlocked Developing Countries, and Small Island Developing States; Ms. Pamela Coke-Hamilton, Executive Director of the International Trade Center; Mr. Claudio Viezzoli, Managing Director for Small and Medium Enterprises Finance & Development of the European Bank for Reconstruction and Development, and representatives from various government, private sector, and international organizations, on the occasion of "Micro, Small and Medium-sized Enterprises Day."
Micro, small, and medium-sized enterprises, as well as wealth creators from around the world, have played a pivotal role in the development of global trade, economic relations, and job creation.
These enterprises constitute 90 percent of all businesses and employ more than half of the world's workforce.
According to research conducted by the World Bank, micro, small, and medium-sized enterprises are responsible for creating an average of 7 out of 10 jobs in rapidly developing countries, contributing approximately 40% to the gross national income of those nations.
Moreover, projections indicate that by 2030, we need to generate a total of 600 million new jobs to accommodate the working-age population. Consequently, supporting micro, small, and medium-sized enterprises has become a priority in national policies.
In recent years, international trade, economic relations, and the global supply chain have encountered unprecedented challenges due to the recent global pandemic.
The challenges faced by landlocked and developing countries have been particularly severe, resulting in substantial costs and losses.
Therefore, the 20th World Export Development Forum, organized under the theme "Diversifying Green Trade: Organic, Digital, Sustainable," holds significant importance at this critical juncture when humanity confronts numerous challenges such as pandemics, price inflation, food shortages, energy crises, and complex geopolitical situations.
The role, relationship, and cooperation among youth, women, start-up businesses, small and medium enterprises, the international community, and financial institutions are crucial in diversifying economies, increasing employment, fostering accessible and sustainable social and economic development, and enhancing the competitiveness of nations.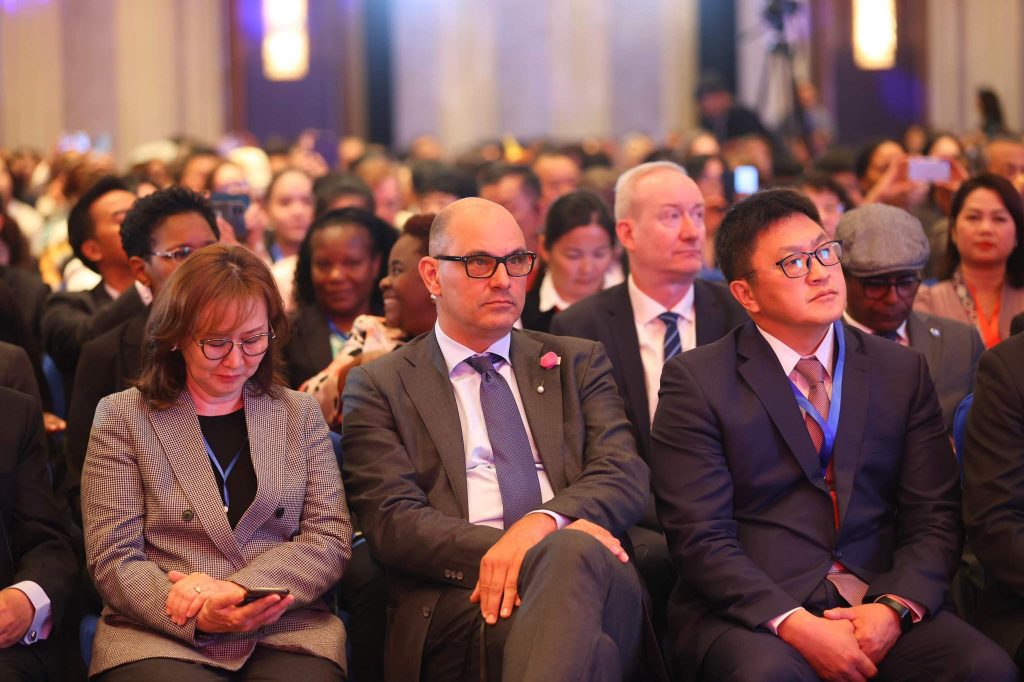 Esteemed guests and delegates,
We have assembled here today at the "World Export Development Forum" to engage in comprehensive discussions on various topics, including the challenges and opportunities faced by landlocked developing countries, the diversification of global exports through green, digital, and inclusive trade, the expansion of economic relations, and the pursuit of mutual benefits and cooperation in the future.
Landlocked developing countries constitute 8 percent of the global population which predominantly consists of youth. These countries lag behind their sea-accessible counterparts in terms of social and economic development, accounting for a mere 1 percent of the world economy.
Over the past two decades, landlocked developing countries have exhibited higher average economic growth rates compared to countries with sea access. This demonstrates that despite the fundamental geographic challenges faced by these nations, tangible results can be achieved through mutually beneficial cooperation.
However, these countries remain highly reliant on the export of raw materials, making their economic situation fragile.
The implementation rate of the World Trade Organization's "Trade Facilitation Agreement" remains low in landlocked countries.
Moreover, pandemics and geopolitical tensions have disproportionately impacted landlocked developing countries, leading to food shortages, energy crises, declining remittances, labor shortages, and ultimately jeopardizing the attainment of sustainable development goals.
Hence, it is crucial for us to address the challenges faced by landlocked developing countries, devise practical solutions, propose initiatives, and unite our voices to present them at the upcoming Third UN Conference on Landlocked Developing Countries.
Climate change has a profound impact on the security of human existence, and the international community is placing significant emphasis on this issue. However, the adverse effects of climate change continue to escalate.
Therefore, it is imperative to diversify global trade and economic relations in a greener, organic, and digital manner. We must embrace advanced technologies and innovations, create new opportunities for entrepreneurs and wealth creators, enhance competitiveness, and provide equal opportunities.
Mongolia is actively engaged in contributing to the regional and international efforts aimed at reducing the negative effects of climate change, mitigating desertification and dust storms, and improving food supply and security.
I am pleased to inform you that the Mongolian government, private sector entities, wealth creators, domestic and foreign investors, and citizens are actively participating and collaborating to implement the initiatives and national movements set forth by the President of Mongolia. These include initiatives such as the "Billion Trees" campaign, "Food Supply and Security," and "Healthy Mongolian."
I firmly believe that these national movements will not only expedite the development of the environment, food, and agriculture sectors but also support regional trade and investment. Consequently, they will yield positive outcomes in the pursuit of sustainable development goals, including employment growth, poverty reduction, and the creation of a healthy and safe living environment for our citizens.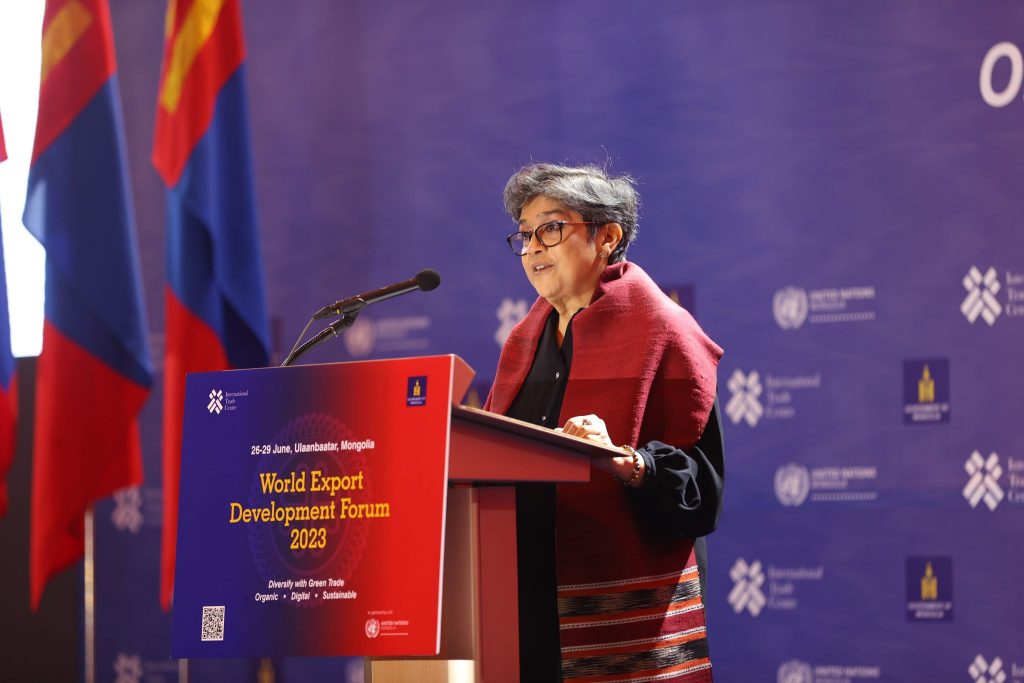 Esteemed guests and delegates,
The role and participation of women are particularly vital for the prosperity of any nation and the well-being of their families.
Supporting women's employment and entrepreneurship brings numerous positive effects, including increased social and economic efficiency, economic diversification, improved resilience, and reduced income inequality.
According to IMF research, women constitute approximately 40 percent of the global labor force, yet their labor force participation rate is nearly 25 percent lower than that of men.
The study also revealed a 10-20 percent wage gap between men and women in member countries of the Organization for Economic Co-operation and Development.
Additionally, women are more likely to work in the informal sector, engage in domestic work, and hold fewer management positions compared to men.
According to an IMF study, 9 out of 10 countries have legal restrictions that discriminate against women, impeding their full participation in the economy.
To achieve sustainable development goals, it is imperative for governments to listen to their women, provide support, and collaborate effectively.
As a democratic country, Mongolia upholds human rights, freedom, and justice. The principle of equal gender participation in political, social, cultural, and economic development is preserved in our Constitution.
Currently, Mongolia has approximately 1.2 million officially employed individuals, with women accounting for 46.5 percent of the workforce. More than 65 percent of working women receive salaries, 13 percent are self-employed, and 21 percent work as herdswomen.
While women contribute to all social and economic sectors of our country, they are prominently involved in the small, medium, and micro-business sectors.
For instance, nearly 70 percent of entrepreneurs in the SME sector are women, with approximately 80 percent operating in trade, services, and recycling. Between 2009 and 2020, around 50,000 new jobs have been created by women.
Mongolia places significant emphasis on increasing women's participation in social and economic development, ensuring gender equality, and supporting women entrepreneurs.
Accordingly, the Mongolian Parliament is in the process of developing a draft law on "Increasing Women Entrepreneurs' Participation in the Economy" in alignment with international standards.
I would like to extend my gratitude to the International Trade Center and the Mongolian National Chamber of Commerce and Industry (MNCCI) for inaugurating the "She Trade Hub" in Mongolia as part of this conference.
I believe that the "She Trade Hub" will provide crucial support to women entrepreneurs and make a significant contribution to Mongolia's trade.
It gives me great pleasure to announce that the "Female Foreign Ministers' Meeting" will be held in Ulaanbaatar in the coming days. This meeting will serve as a platform to discuss global challenges and international relations concerning topics such as international peace, security, climate change, and food security.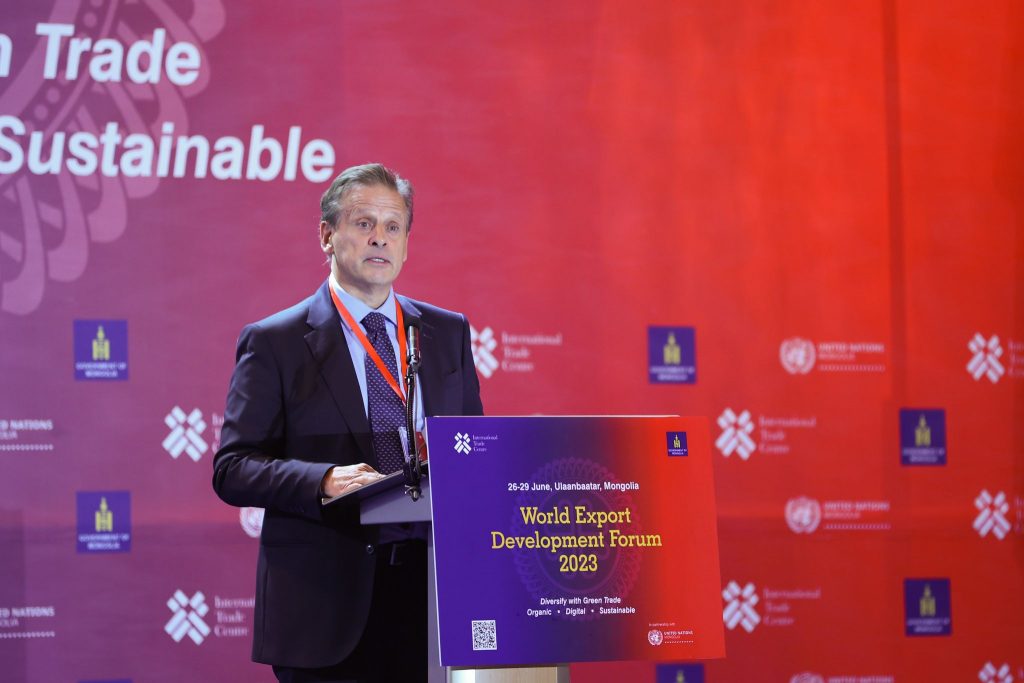 Esteemed guests,
One of the pivotal determinants of global development is digital transition. In today's world, the importance of digital society, digital solutions, and e-commerce cannot be overstated.
The challenging years of the pandemic have highlighted the role and significance of digital development and e-commerce.
In 2019, before the pandemic, global e-commerce reached approximately 27 billion US dollars, with 1.5 billion people, or 27 percent of the world's population aged 15 years or older, engaging in online shopping.
During the pandemic in 2020, a UN study revealed that while global services exports dropped by 20 percent compared to 2019, exports of e-services only experienced a modest decline of around 2 percent. E-services accounted for 64 percent of the total services export during that time.
Moreover, between 2005 and 2019, worldwide exports of e-services increased by 12 percent, with a more significant growth of 21 percent observed in Asia, indicating the region's commitment to intensive e-transition.
Practical international experiences and achievements demonstrate that countries effectively organizing digital transitions and accelerating the growth of the digital economy witness a significant increase in labor productivity.
Mongolia, too, aims to intensify its digital transition and become a "Digital Nation." In pursuit of this goal, the "Ministry of Digital Development and Communications" was established last year.
Research indicates that 3.5 million people out of 3.4 million Mongolia's population, utilize high-speed internet, 4.8 million people has mobile cellular subscriptions, and 1.3 million people regularly access public digital channels. These figures exemplify Mongolia's potential to become a "Digital Nation."
For Mongolia, a landlocked country with vast territory and a scattered population, the development of digital transition and e-commerce serves as a crucial channel for diversifying the economy and trade.
In recent years, Mongolia has placed particular emphasis on intensifying e-development, establishing necessary urban infrastructure, and enhancing internet accessibility.
According to a UN study, e-commerce among Mongolian citizens over the age of 15 has grown fivefold between 2017 and 2021, representing the highest growth rate among landlocked countries and ranking among the highest globally.
The UNICEF research indicates that the education and knowledge of our country's youth in digital development and technology have significantly improved, with almost half of them possessing general information technology knowledge.
Digital payments have become widely utilized in our domestic trade.
In intensifying the digital transition, Mongolia places specific emphasis on supporting the private sector, entrepreneurs, and wealth creators. Efforts are directed towards improving the business environment, simplifying government services, reducing bureaucracy, and saving time.
The development of the "E-Mongolia" digital platform for public services and the digitization of 806 services from 71 government organizations stands as a tangible outcome of the digital transition, providing support to entrepreneurs and citizens.
The digital platform "E-Business" has gradually digitalized various requirements such as taxes, registration, and permits, yielding practical and positive results in enhancing the business environment.
To further develop e-commerce and economic relations, it is crucial to establish trust, reliability, and security among stakeholders and improve local information technology infrastructure.
Regional and international cooperation plays a significant role in accelerating the digital transition.
The conference is expected to generate valuable experiences and practical suggestions for expanding e-commerce.
Distinguished guests and representatives,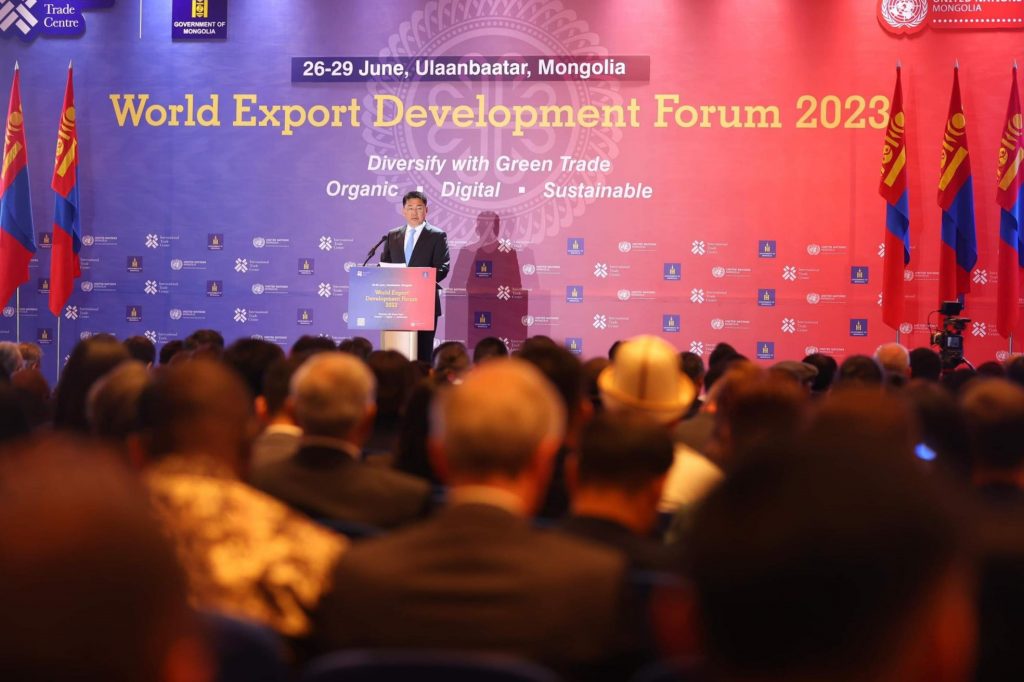 Over 40 percent of the global population is under the age of 25.
Today's startups, micro, small, and medium-sized business entrepreneurs are the driving force behind future development, employment, and wealth creation.
Supporting and encouraging youth entrepreneurship is vital for achieving sustainable development goals.
In Mongolia, more than 30 percent of our population consists of young people aged 15-34, and international researchers acknowledge that our youth receive a relatively good education that aligns with international standards.
Although more than 30 percent of Mongolian young people between 15-34 years of age have higher education, the youth unemployment rate is at 20 percent which is high compared to similar countries.
Therefore, one of our pressing issues in the labor market is to increase the employment of women and young people, providing them with quality and permanent jobs.
To address this challenge, we are implementing various measures to support young entrepreneurs. These measures include improving their knowledge and legal environment, establishing incubator centers, encouraging businesses to adopt digital solutions and new technologies, and providing financial support.
The Parliament of Mongolia has revised and approved the Labor Law.
During this conference, many issues young entrepreneurs facing will be discussed. We believe that by investing in the knowledge and businesses of young people, and by encouraging and supporting them, we can foster responsible, accessible, and green development.
I would also like to extend my best wishes to all young entrepreneurs participating in the "Young Ecopreneur Competition" organized during this conference. Your dedication and innovative ideas will contribute to a sustainable and prosperous future.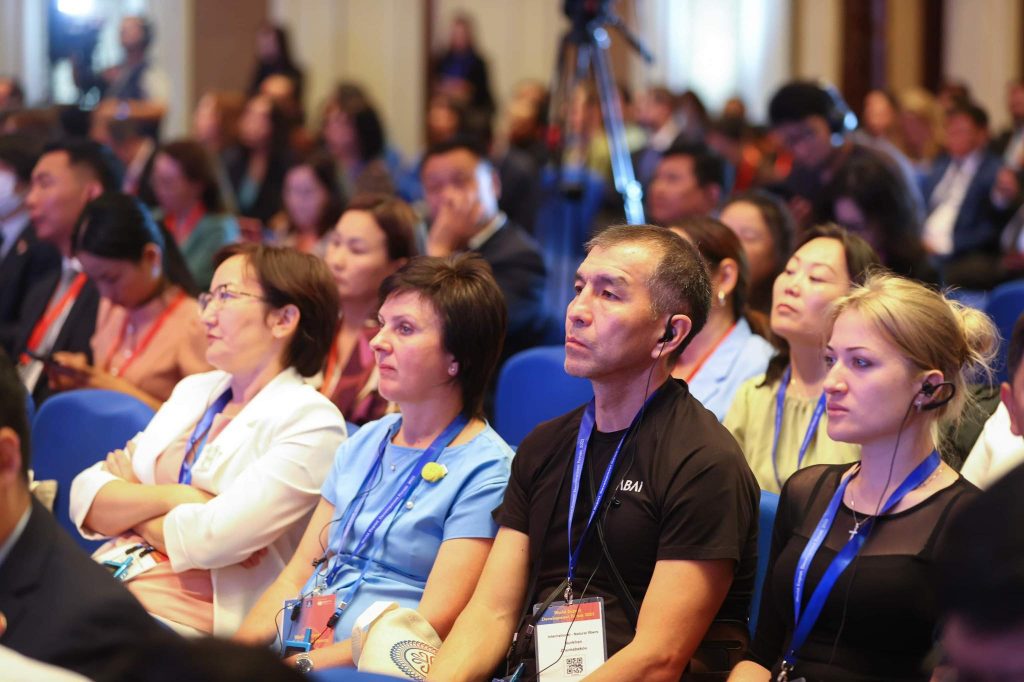 Ladies and gentlemen,
We have gathered today to discuss supporting the green economy, promoting trade and exports, and creating a favorable business environment for small and medium-sized entrepreneurs, including women and young people. We should also exchange opinions on promoting, and disseminating electronic solutions, expanding regional and international cooperation, and creating new markets.
We believe that this esteemed international conference, through joint activities, dialogues, and the establishment of common consensus, will contribute to the sustainable and inclusive development of the world.
Let us join forces and work together for the sustainable development of the world and the promotion of a healthy, safe, and peaceful life for all humanity.
Dear guests and representatives,
We extend a warm welcome to Mongolia, the birthplace of the Great Emperor Genghis Khan.
It is our honor to officially announce the opening of the "20th World Export Promotion Conference."
I wish you success in your conference activities.
May the eternal blue sky bless mankind forever.
Thank you."