ADDRESS BY PRESIDENT KHALTMAAGIIN BATTULGA AT THE PLENARY SESSION OF THE FIFTH EASTERN ECONOMIC FORUM
"President of the Russian Federation Vladimir Putin,
Prime Minister of Japan Shinzo Abe,
Prime Minister of the Republic of India Narendra Modi,
Prime Minister of Malaysia Mahathir Mohamad,
Ladies and Gentlemen,
I am participating for the third time as head of Mongolia at the Eastern Economic Forum that is being held for the fifth time.
This forum has already established itself as a prominent and important stage intended not only for the development of the Far East region but also a platform that stimulates regional economic cooperation among the countries of the Asia Pacific region. It has also become a wonderful tradition at the Forum, where top leaders from many different sectors gather to share and exchange their ideas and thoughts as well as build friendship and partnership.
Allow me to share my thoughts on the current Forum's main theme of New Solutions for Accelerating Economic Growth.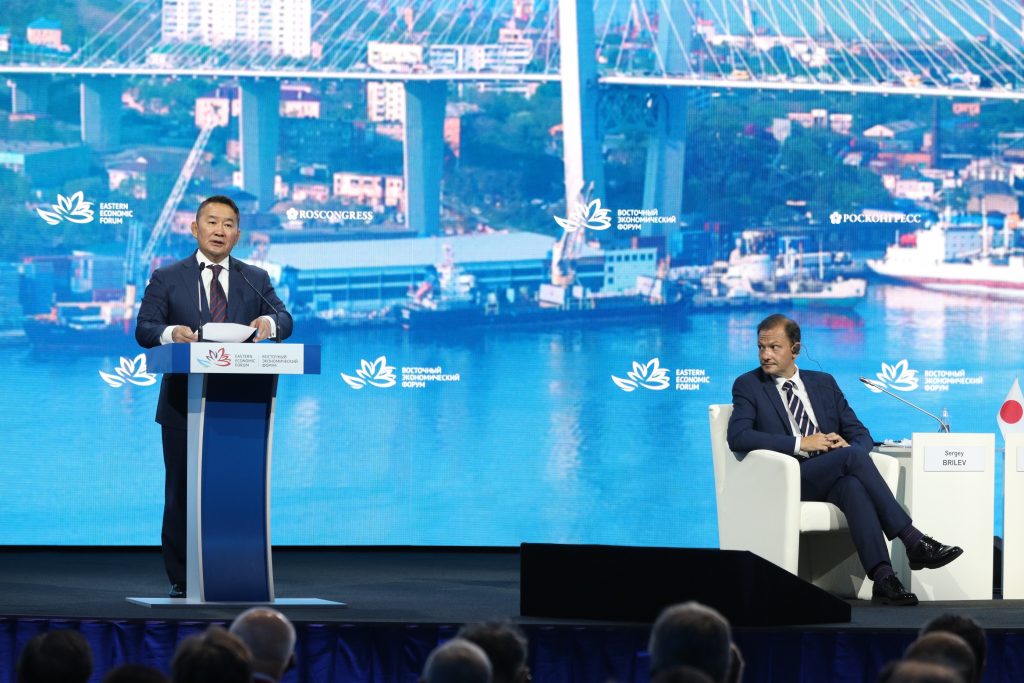 Our citizens, interconnected through many different means of communication networks, are swiftly exchanging information and knowledge and demanding from us, the leaders, higher accountability, economic enhancement and improvement, reduction of poverty, and a rapid development and progress.
There are scientific and technological achievements and optimal economic solutions that are ready at hand for improving the livelihood of the people. Therefore, I invite you all to share your thoughts and race your minds on how to eliminate the existing barriers and obstacles that prevent in realizing the abovementioned existing solutions. For instance, projects and businesses that are aimed at introducing innovative solutions such as the shared economy, connectivity, resource utilization/optimization within the region are especially in need of a strong and valid support. Moreover, it is a given necessity that all of us should start working from now on eliminating all kinds of bureaucracy and obstacles that these businesses and enterprises face. I will fully support initiatives in this regard.
In my opinion, some regional economic issues, nonetheless, should be resolved apart from politics as well.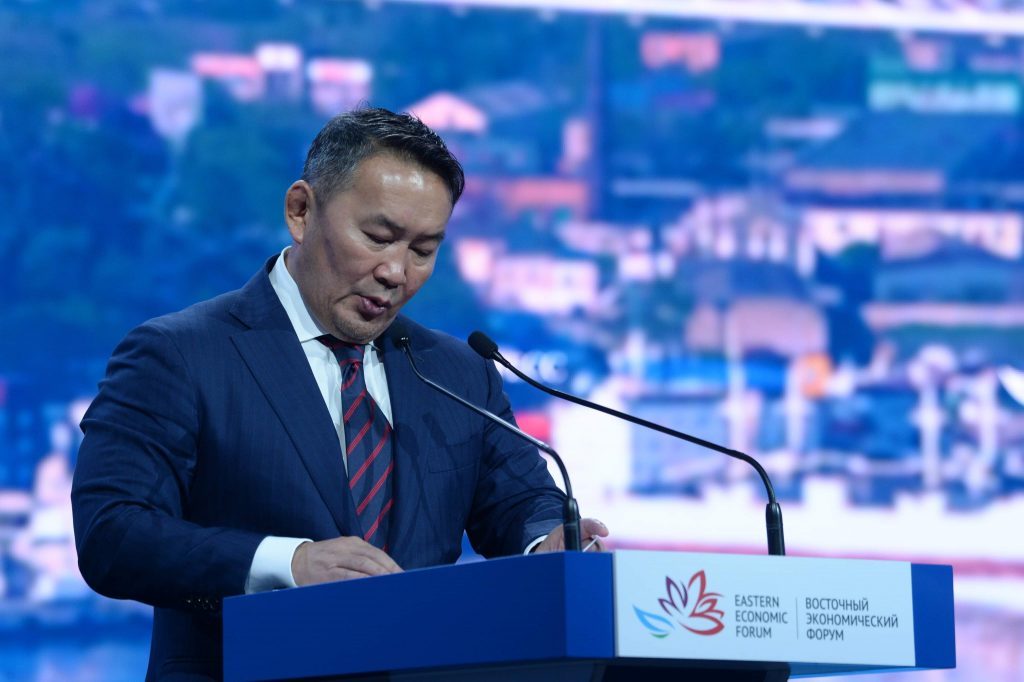 Ladies and Gentlemen,
I am pleased to state that President of the Russian Federation Vladimir Putin paid a visit to Mongolia the day before yesterday and lifted our bilateral relations to the level of Comprehensive Strategic Partnership. Mongolia and Russia are aiming working towards making our economic cooperation to be an exemplary model.
For Mongolia as a landlocked country, the Russian Far East seaports are important in terms of enhancing trade and economic ties with global countries and attracting foreign investments. I would like to reiterate my appreciation to President Putin for his continued support towards creating legal environment in facilitating transit transportation at discounted rate, taking into account the geographical features of our country.
With the aim of realizing that possibility, the Government of Mongolia has decided to establish a Mongolian Trade Mission in Vladivostok. I am confident that the decision will contribute to enhancing regional trade and economic relations.
Within its policy of intensifying trade, economic and investment cooperation with the Eurasian countries, Mongolia is proposing to jointly explore opportunities for the establishment of a Free Trade Agreement between Mongolia and the Eurasian Economic Union. The Free Trade Agreement will play significant role in reducing tariff and non-tariff barriers in trade and in fully utilizing resources of economy and investment sectors.
To actively participate in the regional economic integration, Mongolia has always attached importance to developing and improving the efficiency of its transportation infrastructure coherently with the Russian Federation and the People's Republic of China. Therefore, we are jointly implementing the program on establishment of Economic Corridor between the three countries.
Implementing the Economic Corridor Program and its projects will enhance regional cooperation to a new level and significantly boost the development of investment and business. Hence, we are working to expedite the work of Mongolia-Russia-China joint mechanism.
Last year I proposed the establishment of a coordinating organization in charge of implementing the Northeast Asia Energy Super Grid Project. Throughout the year, Mongolia conducted preliminary studies and implemented several works involving many countries and the region on its part. As a result, I am happy to inform that some regional state owned enterprises affiliated in energy network and investment have started to participate by conducting feasibility studies of potential projects, as well as preparatory works related to energy production, transportation and trade. Executives of Erdenes Mongolia and Rosseti, Russian Electric Power Company signed a document on cooperation.
In the Northeast Asian region, there are four countries that are major energy consumers. It is possible for Mongolia to provide affordable and reliable energy sources to these countries. This is important in terms of leaving positive impact on regional economic competitiveness and offering affordable and accessible energy to the citizens.
Furthermore, President of the Russian Federation supported our proposal of building the planned natural gas pipeline from Russia to China through Mongolian territory, and President of the People's Republic of China expressed willingness to review this proposal.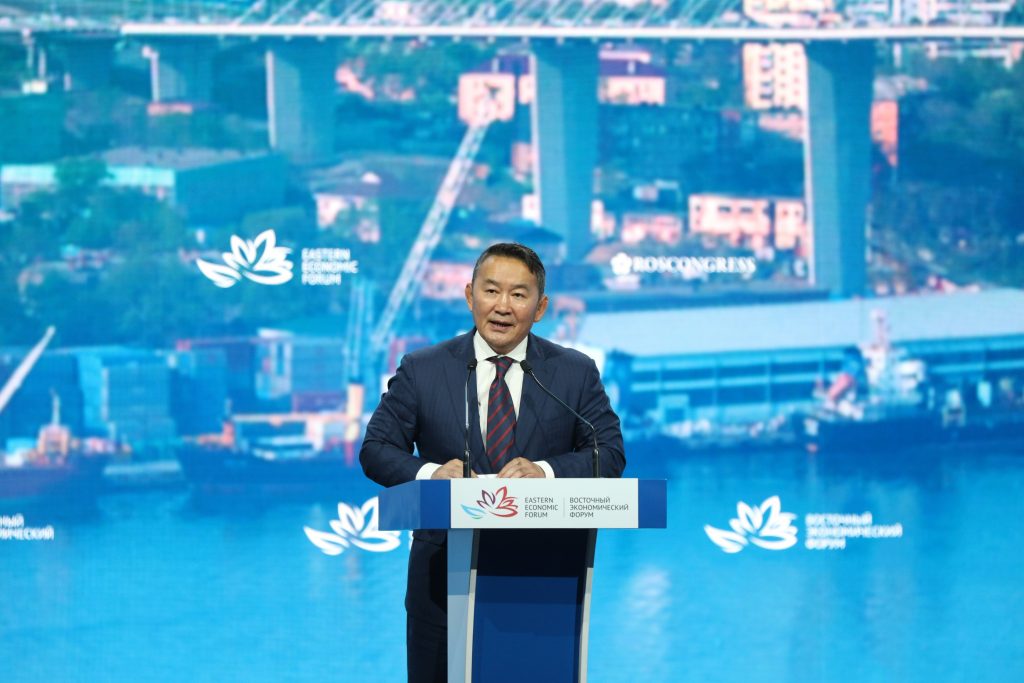 Dear Businesspeople and Investors,
Aside from the above-mentioned works, Mongolia has been implementing necessary policies and taking many actions to create a favorable legal environment in support of increasing trade volumes and exports of value added goods with its trading partners. Particularly, the Government endorsed a model agreement for Foreign Investment Protection and Promotion and is working towards renewing investment agreements to be established with other countries. The model agreement is fully consistent with the concept of global sustainable development and is designed to protect the interests of investors and ensure economic growth in conjunction with environmental and social development. I say with a great pleasure that Mongolia is open to friends who are interested in cooperating and doing business with us.  
Ladies and Gentlemen,
Mongolia is keen to being active and open. Respecting the rule of law, we will develop by creating value and sharing it fairly and equally with our partners. The basic condition for the development of mutually beneficial economic cooperation that is based on the principles of mutual respect, fair competition and trade is the strengthening of regional peace and stability.
Building cooperation based on confidence is our paramount aspiration.
I wish you a successful forum.
Thank you for your consideration."