MEETING WITH SHINZO ABE, PRIME MINISTER OF JAPAN
On the sidelines of the Fifth Eastern Economic Forum, President of Mongolia Khaltmaagiin Battulga met Prime Minister of Japan Shinzo Abe today.
At the outset, the sides expressed their pleasure with meeting for the third time in Vladivostok City and exchanged their views with regard to the strengthening of bilateral economic relations.
President Battulga spoke about the Mongolian economy, which demonstrated a 6.8 percent growth last year, and the launch of a railway infrastructure project in Mongolia for the construction of 414.6 km rail line with domestic sources. Moreover, the President said that Mongolia was putting into action some economically beneficial projects, including the coal terminal construction project between Erdenes Tavantolgoi JSC of Mongolia and FESCO Transportation Group of Russia, while expressing interest in holding major negotiations on coal export with Japan.
Prime Minister Shinzo Abe expressed his interest in gaining familiarity with the projects that were personally introduced by President Battulga and putting into effect the works involving Tavantolgoi.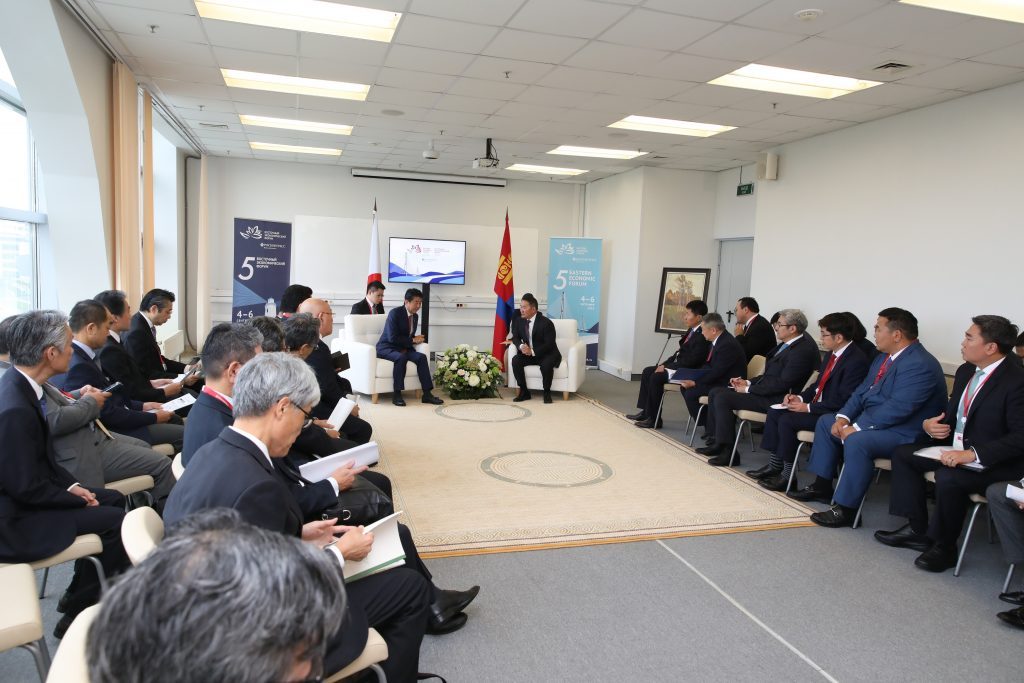 President Battulga named the textile industry as the next sphere with potentials for bilateral cooperation and touched upon Mongolia's expectations for the adoption of the Mongolia Third Neighbor Act legislative bill, while remarking that Mongolia solely supplied around 50 percent of global cashmere demand. The President discussed his view that regardless of the status of the Mongolia Third Neighbor Trade Act legislative bill in the U.S. Congress, it was possible for Mongolia to restore old ties in the cashmere industry, adopt the latest technologies, and receive mutual benefits from exports.
Prime Minister Shinzo Abe congratulated President Battulga on his successful visit to the United States, saying that the upgrade in Mongolian-U.S. relations to the level of Strategic Partnership now serves as a ground for developing trilateral cooperation between Japan, Mongolia, and the United States.
At the end of the meeting, the sides noted the growing frequency of mutual visits and the strengthening relations between Mongolia and Japan and agreed on certain matters, including the ways to increase the productivity of bilateral talks and preparations for their next meeting.