DOCUMENTS SIGNED DURING THE OFFICIAL VISIT OF PRESIDENT BATTULGA TO THE KYRGYZ REPUBLIC
Following the official talks between President of Mongolia Khaltmaagiin Battulga and President of the Kyrgyz Republic Sooronbay Jeenbekov, a ceremony for signing of documents was held in the presence of the heads of state.
After the ceremony, the heads of state of Mongolia and the Kyrgyz Republic attended a press briefing.
President Sooronbay Jeenbekov of the Kyrgyz Republic said, "… During the official talks, we agreed to focus on developing trade, economic, and cultural relations. In this regard, I am confident that the Third Meeting of the Mongolian-Kyrgyz Intergovernmental Commission will be productive. We also exchanged views on regional cooperation and laid the foundation for furthering this cooperation. Most importantly, the Kyrgyz Republic and Mongolia share an interest for developing mutually beneficial cooperation. The Kyrgyz side is satisfied with the official visit of President Battulga. I am sure that our official talks will make a substantial contribution to the development of bilateral relations."
President Battulga said, "…Our discussion was held in a friendly, open, and productive atmosphere. President Jeenbekov and I discussed about further expansion of Mongolia-Kyrgyz relations into a wide range of spheres, including politics, security, defense, economy, trade, agriculture, tourism, culture, education, and sports, as well as the continuation of close cooperation at the regional and international levels.
The relations and cooperation between our two countries have successfully developed as a result of mutual efforts and we have been learning from each other's experience on how to strengthen democratic values and ensure social and economic growth. We will develop together, sharing our mutual experience in sectors such as economy and digital technology.
Within the framework of this visit, and with the purpose of strengthening the legal environment in bilateral relations, we have signed several documents, including Intergovernmental Agreements on Military Cooperation and Anti-Terrorism Cooperation, Protocol on Cooperation between the National Security Councils, as well as on cooperation in the areas of education, tourism, intellectual property, archive, and science. I am confident that we will see tangible progress in cooperation within these areas."
The sides also affirmed that the opening of the Embassy of Mongolia in the Kyrgyz Republic during the official visit was an indication of the great importance Mongolia attaches to its relations with the Kyrgyz Republic.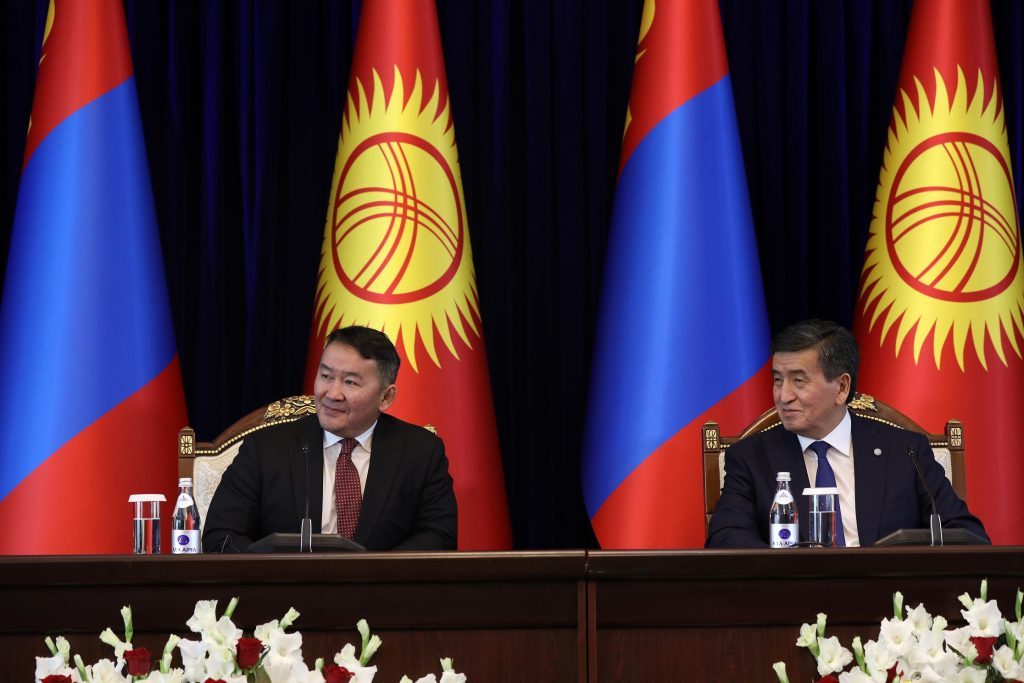 THE DOCUMENTS THAT WERE SIGNED WITHIN THE FRAMEWORK OF THE OFFICIAL VISIT OF PRESIDENT BATTULGA
1.Intergovernmental Agreement on Anti-Terrorism Cooperation
Signees: B.Battsetseg, Deputy Minister of Foreign Affairs of Mongolia, and Chyngyz Aiderbekov, Minister of Foreign Affairs of the Kyrgyz Republic
2.Intergovernmental Agreement on Military Cooperation
Signees: B.Battsetseg, Deputy Minister of Foreign Affairs of Mongolia, and Major General Rayimberdi Duishinbiev, Chief of the General Staff of the Armed Forces of the Kyrgyz Republic
3.Protocol on Cooperation between the National Security Council of Mongolia and the Security Council of the Kyrgyz Republic
Signees: A.Gansukh, Secretary of the National Security Council of Mongolia, and Damir Sagynbaev, Secretary of the Security Council of the Kyrgyz Republic
4.Memorandum of Understanding on Cooperation in Education Sector between the Ministry of Education, Culture, Science, and Sports of Mongolia and the Ministry of Education and Science of the Kyrgyz Republic
Signees: B.Battsetseg, Deputy Minister of Foreign Affairs of Mongolia, and Gulmira Kudaiberdiyeva, Minister of Education and Science of the Kyrgyz Republic
5.Memorandum of Understanding on Cooperation in Tourism Sector between the Ministry of Environment and Tourism of Mongolia and the Ministry of Culture, Information, and Tourism of the Kyrgyz Republic
Signees: B.Battsetseg, Deputy Minister of Foreign Affairs of Mongolia, and Azamat Zhamankulov, Minister of Culture, Information, and Tourism of the Kyrgyz Republic
6.Memorandum of Understanding on Cooperation in Intellectual Property Rights and Traditional Knowledge between the Intellectual Property Office of Mongolia and the State Service of Intellectual Property and Innovation of the Kyrgyz Republic
Signees: E.Erdenesuren, Head of the Intellectual Property Office of Mongolia, and Dinara Moldosheva, Chairwoman of the State Service of Intellectual Property and Innovation of the Kyrgyz Republic
7.Memorandum on Cooperation in Trade, Economy, and Culture between the Governor's Office of Uvs Aimag of Mongolia and the Office of the Plenipotentiary Representative in Issyk-Kul region
Signees: D.Batsaikhan, Governor of Uvs Aimag of Mongolia, and Akylbek Osmonaliev, Plenipotentiary Representative of the Government in Issyk-Kul Region of the Kyrgyz Republic
8.Memorandum of Understanding between the General Archive Authority of Mongolia and the Archive Agency under the State Registration Service of the Kyrgyz Republic
Signees: T.Ganbold, Consul General of Mongolia to the Kyrgyz Republic, and Almaz Mambetiv, Chairman of the State Registration Service of the Kyrgyz Republic
9.Agreement on Academic Cooperation between the Mongolian Academy of Sciences and the National Academy of Sciences of the Kyrgyz Republic
Signees: D.Regdel, President of the Mongolian Academy of Sciences, and Murat Jumatayev, President of the National Academy of Sciences of the Kyrgyz Republic